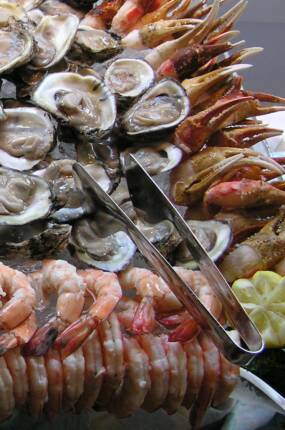 Since 1969, Jack Francis Catering has been serving the discriminating tastes of the Delaware Valley and beyond. Fortune 500 companies and professional societies of physicians and attorneys are longstanding clients. Fashionable cocktail receptions to elegant dinner parties, box lunches to barbecues, Jack Francis Catering offers a full service catering operation to meet all of your culinary as well as your budgeting needs. When you think of Jack Francis Catering remember that the food is always exceptional, the service impeccable and the price affordable.


Please note that all the menus listed below are only suggestions. Nothing is too outrageous and we will do everything possible to meet your every need and ensure that your party is a success.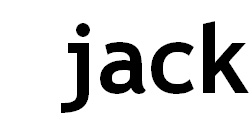 Hot Entrees
Boneless Chicken Breast
Chicken Tetrazzini
Fried Chicken
Roast or Round Beef
Italian Meatballs
Beef Burgundy
Eggplant Parmesan
Sausage Scaloppini
Crepe Ruscardi
Lasagna
Ravioli
Fettuccine Alfredo
Rigatoni
Rice Piemontese
Stuffed Cabbage
Kielbasa/Sauerkraut
Fettuccine Neptune
Seafood Newburg

Cold Entrees

Chicken Salad

Baked Ham

Roast Turkey

Cheese Trays

Tuna Salad

Salami

Roast Beef

Salads

Potato Salad

Cole Slaw

Italian Salad

Three Bean Salad

Fresh Vegetable du Jour

Relish Bowl

Pickled Mushrooms

Marinated Cucumbers and Tomatoes

Julienne Vegetable Salad Vinaigrette

Desserts
Assorted Mini Pastries/Cookies
Apple Crisp
Peach Cobbler
Fresh Fruit
Chocolate/Strawberry/Lemon Mousse.

Sides

Orange Ambrosia

Fruit Kabobs

Garden Salad

Melon and Proscuitto

Assorted Fruit Juices

Peach Surprise

Fruit Compote

Entrees

Sherried Dried Beef in Cream

Quiche Lorraine

Chicken a la King

Country Sausage

French Toast

Omelettes

Strada

Sliced Bacon

Smoked Turkey

Chicken Croquettes

Welsh Rarebit

Baked Ham

Waffles

Crepes

Desserts

Fresh Fruit Compote

Apple Crisp

Cookie Tray

Peach Cobbler

Miniature French Pastries

Bananas Foster

Lemon/Strawberry/Mocha Mousse

Entrees

Sirloin Steaks
Filet Mignon
Flank Steaks
Hamburgers
Barbecued Spare Ribs
Southern Fried Chicken
Split Roasted Game Hens
Hot Dogs
Salmon, Tuna or Swordfish Steaks
BBQ Beef
Shrimp & Salmon Skewers
Marinated Chicken
Lamb Kabobs
Bratwurst
Pork Tenderloin Kabobs
BBQ Chicken


Sides

Baked Beans
Roasted Onions
Corn on the Cob
Grilled Gingered Zucchini
Skewered Marinated Vegetables
Traditional Potato Salad
Dilled Potato Salad
Three-Bean Salad
Marinated Cucumber Salad
Raspberry Vinaigrette Salad
Pasta Salad Pesto
Cole Slaw
Marinated Julienne Vegetable Salad Vinaigrette
Tossed Garden Salad
Caesar Salad


Asian

Marinated Pork Tenderloin

Steamed Chinese Dumplings

Egg Rolls

Crab Rangoon

Sushi Rolls

Chicken Satay

Appetizers
Lobster Spring Rolls
Vegetable Wellington
Grilled Sea Scallops
Soup du Jour
Pasta du Jour
Cold Smoked Duck with Raspberry Sauce
Seafood Croustade
Prosciutto and Melon
Cold Poached Salmon
Brie Crepe and Melon

Entrees
Roast Tenderloin of Beef with Bordelaise
Prime Rib of Beef au Jus
Grilled Marinated London Broil
Veal Marsala
Chicken Dijon with Sauteed Pecans
Tuscan Chicken with White Bean Confit
Grilled Marinated Chicken Breast with Salsa
Turkey Medallions with Tarragon Cream Sauce
Chicken Florentine
Chicken Saltimboca with Sage Sauce
Tilapia Filet with Rosemary White Wine Sauce
Poached Salmon with Hollandaise
Stuffed Flounder and Lump Crabmeat
Dijon Crusted Swordfish
Mixed Grill (Choice of Three Selections)
Grilled Filet Mignon with Bearnaise Sauce
Roasted Rack of Lamb with Dijonaise

300 Maple Street

Conshohocken, PA

19428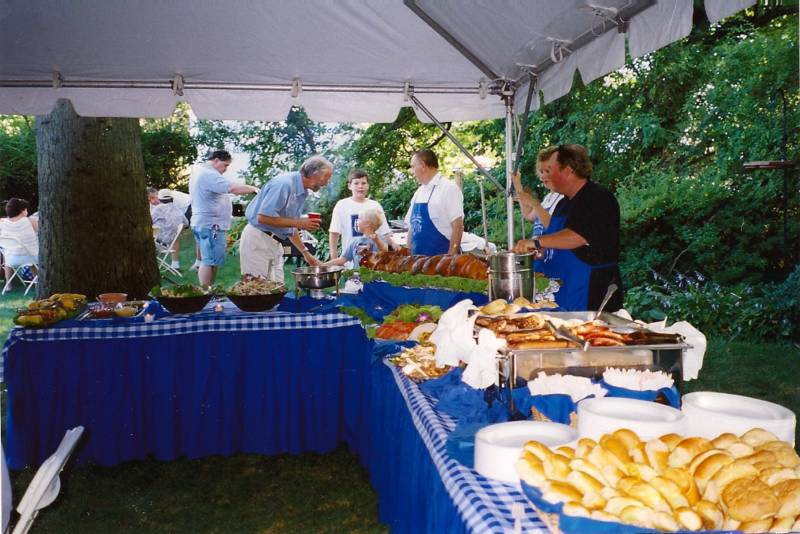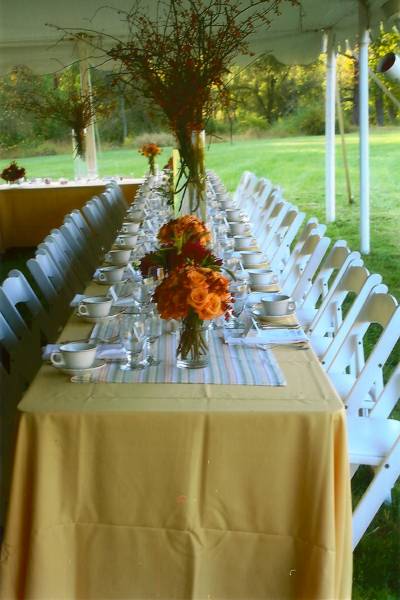 COLD

Miniature Hoagies
Stuffed Cocktail Tomatoes
Smoked Salmon Pinwheels
Asparagus and Ham Rolls
Proscuitto/Melon
Stuffed Celery
Deviled Eggs
Chicken Puffs

Belgian Endives
Arametes
Caviar Rounds
Anchovy and Pimiento
Salami Cornucopia
Dried Beef Roll
Cucumber Cups
Crabfingers
Nutballs

HOT
Miniature Philly Cheesesteaks
Water Chestnuts Wrapped in Bacon
Quiche Lorraine
Spinokapita
Miniature Reubens
Tortellini Kabobs
Sesame Chicken
Shish Kabobs
Steamed Chinese Dumplings
Chicken and Artichoke Skewers
Lobster & Shrimp Tartlets
Olive Puffs
Cheese Straws
Stuffed Mushroom Caps
Swedish Meatballs
Pigs in a Blanket
Crab Balls
Stromboli
Egg Rolls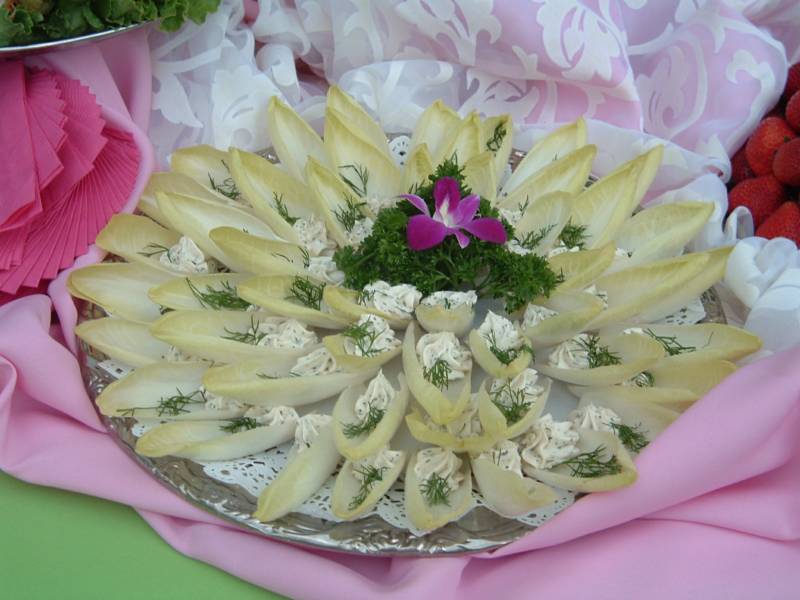 Bar

We provide a bartender and set ups including:

Orange Juice

Cranberry Juice

Bloody Mary Mix

Coke

Diet Coke

Ginger Ale

Tonic Water

Club Soda

San Pellegrino

We will provide glassware, bar fruit, and cocktail napkins, but all beer, wine & liquor are to be provided by the host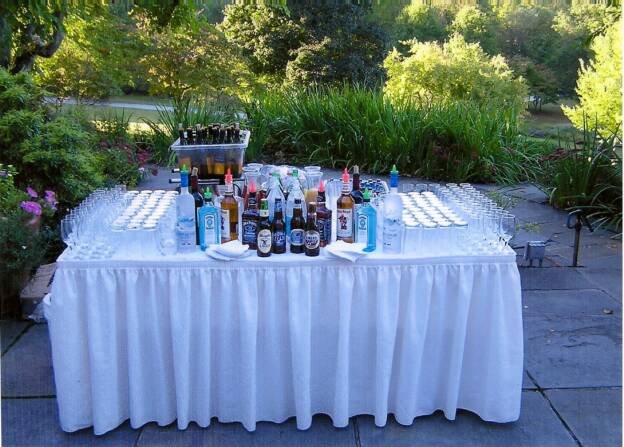 Tex Mex

Tacos with Fillings & Condiments

Enchiladas

Chili

Burritos

Chicken or Beef Fajitas

Your choice of pasta:

Tortellini

Farfalle

Penne

Gemelli

Ravioli

Oricchetti

Fettuccine

Your choice of sauce:

Pesto

Alfredo

Primavera

Carbonara

Creamy Mushroom

Pomodoro

Served with Grated Parmesan Cheese, Focaccia and Caesar Salad

Parisan

Crepes filled with your choice of:

-Lobster & Shrimp Newburg

-Crab & Asparagus

-Roasted Chicken, Pear & Gruyere

-Brie & Apple

-Fresh Fruit & Creme Chantily

Nicoise Salad with Dijon Vinaigrette

Hawaiian

Barbecued Ribs

Skewered Chicken Maui

Rumaki

Pork of Beef Teriyaki

Grilled Mahi Mahi

Plum Sauce

Grill

Marinated Flank Steak

Baby Lamb Chops

Shish Kabobs

Chorizo & Chicken

Vegetable Skewers

Raw Bar

Clams & Oysters on the Half Shell

Cocktail Shrimp

Snow Crab Claws

With Cocktail Sauce & Lemon Wedges

Philadelphia

Hoagies

Cheesesteaks

Soft Pretzels

Snapper Soup

Tastykakes

Tapas

Albondigas

Zucchini Fritti

Tortilla Espagnole

Baba Ganoush

Hummus & Pita Chips

Carving

Country Baked Ham

Top Round of Beef

Herb Roasted Turkey

Assorted Rolls

Grilled Vegetable Medleya